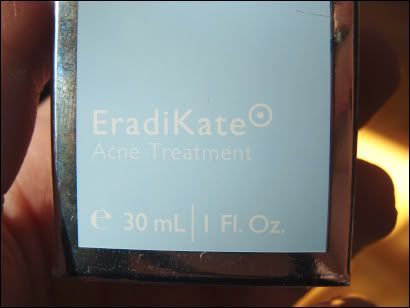 Ok, so while I was in NYC I stopped by a few (ahem, 5) Sephora stores. I know, excessive, but I couldn't help myself. Plus, the Sephora in my area doesn't stock many of the brands that I was fortunate enough to be able to test in Ny. One of those brands was the Kate Somerville skincare brand. For those of you who don't know, Kate Somerville began a skin care clinic in LA and is fairly well known for giving many celebs their great skin. In addition to this, she has her own line of skincare which has been said to be good. The product that I got is the EradiKate acne treatment.
Here's a pic:
The sales assistant at Sephora was kind enough to give me a little booklet which outlines all of the products in the line as well as the skin pyramids which I will share with you later. Now, EradiKate is an acne spot treatment. While I have tried many from high end and drugstore brands, I've never tried a sulfur treatment, only salicylic acid or benzoyl peroxide treatments, so I was curious to see how it would compare.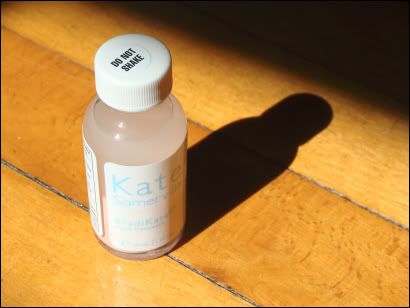 The product is a light pink sediment in a clear solution packaged in a very nice, expensive looking glass bottle. Here's a closer pic:
To apply this, you are supposed to use a cotton swab, dip it into the pink sediment, and then dab on any zits. It dries within a few minutes and is sorta crumbly/powdery/chalky in consistency.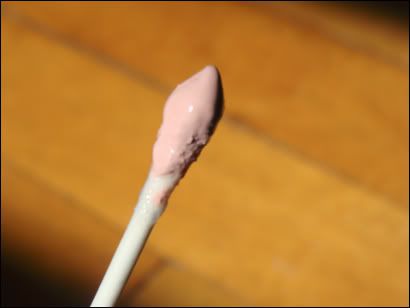 I think it works quite well, but I wouldn't say that this is a product that you really need, simply because there are plenty drugstore products that will give you the same result, but for a lot less $. Off the top of my head, Neutrogena's Rapid Clear Acne Eliminating Spot Gel retails for around $8 and will give you the same result. Plus, the Neutrogena gel is clear and absorbs quickly. With the EradiKate, it sits on your skin for hours and actually starts to crumble off of your skin after a while, which is kind of gross, especially since it doesn't work any faster.
Another downside to this product is the amount of product that you end up using with each application-or should I say, not using. I don't know if you can see it well, but the entire head of the cotton swab is covered in sediment, but in reality, I only used maybe a fifth of that amount. If the bottle was clear, it would be a lot easier to moderate the amount that you use. however, as it is not, I see myself going through this product fairly quickly, as every time you dip the cotton swab into the sediment, a HOLE is left in it!!! And it comes in a glass jar, which, while it makes it feel high-end, isn't very practical because dropping it even once on the right floor can shatter it. Overall, for a product that doesn't have any significant advantages over drugstore brands, I would say that the price isn't worth it.
Info:
Price:
$22 (for 1oz)
Ingredients:
Sulphur, Isopropyl Alcohol, Zinc Oxide, Camphor, Magnesium Aluminum Silicate, Salicylic Acid, Iron Oxides.
Disclosure:
The product featured in this post was bought by me for the purpose of my personal use. If you have any further questions about disclosure, don't hesitate to ask in the comments.