Boots No. 7 is a brand that continues to surprise me. I'd walked past their displays at Target for years, never realizing how amazing some of their products really are. What got me interested in this product was the Mary Kay Microdermabrasion Set, a set of an exfoliant and renewal serum Unfortunately, the extremely small containers and a price tag of $55 turned me off! Now, Boot's skincare isn't that cheep either, or at least some of it isn't, but if you're lucky enough to have some coupons or get their products during a clearance, then you're set!
The product I bought is the Boots No. 7 Total Renewal Micro-Dermabrasion Exfoliator, and for $14.99 you get 2.5 oz. That may seem like a lot of money to pay for a drugstore brand, but compared to the MK set, you get more product for less. The MK exfoliator (you can buy the set or get the items separately) is $30 for only 2 oz. And, knowing just how much of a bargain hunter I am, I of course found the Boots version at a much cheaper price. Only $4.99! I have to say, though, that if I could only buy this at full price, I probably wouldn't.
Now, onto the actual product itself. The exfolatior is a cream cleanser with aluminum oxide micro-crystals that act as the abrasive. The crystals are actually a lot larger than I expected them to be. I've used the MK version, and the crystals in it were much finer and gentler. These were a bit larger and therefore rougher on my skin, though not as bad as the abrasive found in the St. Ives scrubs. However, based on the large size of the crystals, I would categorize this more as a scrub than a microdermabraser, but a good scrub at that.
First off, here it is on my dry skin: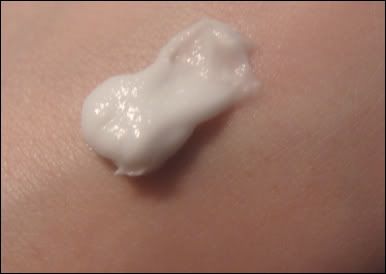 Here it is spread:
Just to give you an idea on the size of the crystals, here's a closeup: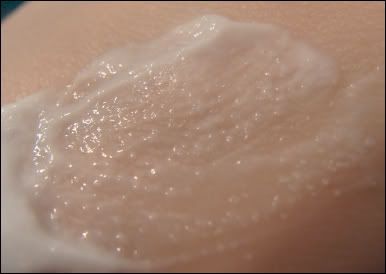 You can really see the texture and how large the crystals are. In the MK one, you can't even see individual crystals. It's uniform through out the cleanser it's added to.
Here it is after I ran some water over it and rubbed it a bit: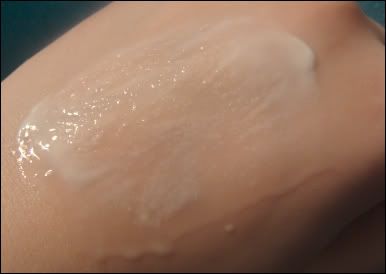 You can see that the cream cleanser the abrasive is added to is fairly thick, withstanding the water added. If found this to be both good and bad when I used it. It was good because it made my skin feel very moisturized. However, as I have oily skin, about half an hour after I washed my face (for the purpose of the review I didn't moisturizer right after) my skin felt very oily, giving me a very uncomfortable feeling, as though I was going to bed with a dirty face. As much as I don't like this aspect of the product, I do have to say that I am liking it in general because it left my skin feeling sooooooo soft! While it is a bit rougher than I'd like it to be, it leaves my skin feeling as soft as the MK version did. Now, just like the MK one, there is a complementing renewal serum/moisturizer, but I was disinclined to purchase it because it was $21, not something I was going to spend on a drugstore brand product. Overall, as an exfoliant it is excellent and I highly recommend it!
First image from
Target.com
.
Info:
Price:
$14.99 (Retail)
Ingredients:
Aqua (Water), Alumina, Glycerin, Paraffinum Liquidum (Mineral oil), Capric/Caprylic Triglycerides, Dimethicone, Glyceryl Stearate, Cetyl Alcohol, Petrolatum, PEG 100 Stearate, Phenoxyethanol, Sodium Polyacrylate, Methylparaben, Propylparaben, Xanthan Gum, Tetrasodium EDTA
Disclosure:
The product featured in this post was bought by me for the purpose of my personal use. If you have any further questions about disclosure, don't hesitate to ask in the comments.